Professor Dr. Tanja Schwerdtle - new Vice President of the German Federal Institute for Risk Assessment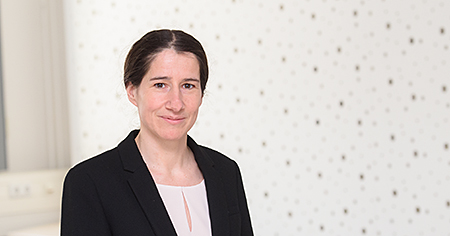 Food chemist Tanja Schwerdtle is the new Vice President of the German Federal Institute for Risk Assessment (BfR). On 1 March 2020, she moved from the University of Potsdam, where she holds a professorship in food chemistry, to the BfR. Schwerdtle, 45, succeeds Professor Reiner Wittkowski, who retired in 2019. "I am delighted to be in this excellent position to help shape and improve consumer health protection," says Schwerdtle. "With its many distinguished experts and numerous specialist disciplines, the BfR offers the best conditions to do this."
Schwerdtle's scientific work includes research into metal compounds, such as mercury and copper as well as trace elements, such as selenium and manganese, and their effects on the human organism. Schwerdtle has been closely involved with work on the risk potential of the semimetal arsenic, which is found in various chemical compounds in food. She chairs the research group "TraceAge", which investigates how essential trace elements affect healthy and sick elderly people. "TraceAge" is supported by the Deutsche Forschungsgemeinschaft (German Research Foundation). Furthermore, Schwerdtle is working on methods to replace animal experiments for testing and evaluating toxic substances.
Born in Pforzheim, Schwerdtle studied chemistry and food chemistry at the University of Karlsruhe, where she also received her doctorate in 2002. This was followed up by positions as a research assistant in Karlsruhe and at Technische Universität Berlin. Schwerdtle held a W2 professorship in food chemistry at the University of Münster between 2008 and 2013. Since October 2013, she has been a W3 professor at the University of Potsdam's Institute of Nutritional Science.
Tanja Schwerdtle has received numerous awards for her scientific achievements and is a member of numerous scientific committees, such as the European Food Safety Authority (EFSA). Since 2013, she has been a member of the BfR's Scientific Advisory Board and its Chair since 2017. Stays abroad led her to the Universities of Oxford in the United Kingdom and Leiden in the Netherlands. Schwerdtle is married and has a daughter.
About the BfR
The German Federal Institute for Risk Assessment (BfR) is a scientifically independent institution within the portfolio of the Federal Ministry of Food and Agriculture (BMEL) in Germany. It advises the German federal government and German federal states ("Laender") on questions of food, chemical and product safety. The BfR conducts its own research on topics that are closely linked to its assessment tasks.
This text version is a translation of the original German text which is the only legally binding version.
Keywords