Health assessment of Textiles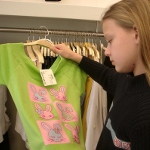 Every day we wear our clothes but health risks are often not known – garments do not require any authorisation. A dedicated working group, therefore, deals with the risk assessment of textiles and leather at BfR.
Under the keyword "textiles" BfR examines garments and finishing agents used – for instance materials such as Gore-Tex, impregnating agents, dyes and many other products.
These items are classified as consumer articles under the German Food, Consumer Articles and Feed Code. Consequently, they must be produced and treated in such a way that they do not endanger health.
However, since there is no mandatory authorisation or registration for textiles, comprehensive knowledge on possible risks is missing.
Working Group "Textiles and Leather"
In order to close this gap, BfR has set up the "Working Group "Textiles and Leather" (Link). It is part of the Consumer Articles Committee and elaborates statements on the risk potential of colorants, finishing and auxiliary agents for textiles.
In this function the Working Group continues the work of the former "Health Assessment" panel of the Textiles Working Group.
The Working Group discusses general production processes, innovative products, test procedures, but also special product analyses concerning, for instance, contaminants in leather products, the release of nanoparticles in novel garments or allergic reactions to dyes.
Legal bases:
Food, consumer articles and feed code
Consumer Goods Ordinance
German equipment and product safety act
06.07.2012 - Updated BfR Opinion No. 041/2012
20.11.2006 - Consumers vote on nanotechnology

01.10.2001 - October 2001;
01.03.2019 - BfR Communication No 005/2019