Research by the NRL for the Analysis and Testing of Zoonoses (salmonella)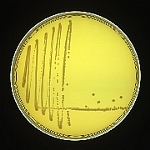 Salmonella play a major role in infections in human beings. Even now many aspects of the transmission of Salmonella from feed via the animal and food to man have still to be elucidated. Not enough is known either about the mechanisms by means of which Salmonella invade a host and then make it sick. Up to now Salmonella in food were detected by the preparation of cultures. However, this test takes about four days. At the NRL methods are being developed which would make it possible to detect Salmonella in food in just a few hours.
Resistance development by Salmonella is another main area of research. In recent years a growing resistance of Salmonella to antibiotics has been observed. This could lead to the failure of necessary treatment and a worsening of the course of disease.
The concrete research work of the NRL results from problem areas like these. At the present time, it is focussing on the following research areas:
Monitoring the prevalence of Salmonella in feed, animals, food and other sources.

Development, validation and standardisation of new molecular biological techniques for the detection and characterization of Salmonella (DNA microarray, RT-PCR, MALDI-TOF MS) as the basis for more complex risk assessments and epidemiological studies. In this field BfR plays a leading role on the European level.

Investigating the causes and spread of resistant pathogens and their resistance genes as well as the structures that facilitate horizontal gene transfer.