National Reference Laboratory for Escherichia coli (NRL E. coli)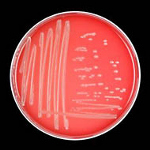 Escherichia coli is a naturally occurring commensal organism (does not harm its host) in the gut of birds and warm-blooded mammals and a component of intestinal flora in man. Some strains of Escherichia coli do, however, play an important role as pathogens of serious diseases in animals and man.
The work of the National Reference Laboratory for Escherichia coli, including verotoxin-producing E. coli (VTEC) focuses on
the detection of virulence properties and
the serological differentiation of E. coli isolates from various test materials
The tasks of the NRL E. coli are specified in Directive 2003/99/EC (2003) of the European Union. The NRL E. coli assumes its responsibility within the framework of the Act on the Restructuring of Central Health Institutions of 24 June 1994 (BGBl.I, p. 1416).
Given the large number of virulence and pathogenicity factors described for E. coli, the NRL E. coli works on the further development and standardisation of immunological and molecular-biological methods for pathogen detection.
Main areas of the NRL for Escherichia coli
Assumption of the tasks within the framework of the Zoonoses Directive 2003/99/EC
Serotyping of E. coli according to Orskov and Ewing
Immunological methods (ELISA, colony immunoblot, western blot)
Elucidation of chains of infection
Molecular-biological fine typing
Rapid detection using PCR
Conduct of multi-laboratory studies
Advice
Microbiological diagnosis
Testing is done for phenotypical characteristics of E. coli. The formation of toxins and the adherence properties are detected using cell culture methods. E. coli isolates are examined serologically for classification as 181 O-(lipopolysaccharide), 56 H-(flagellar) and important C-(capsule) antigens. The resulting serotypes often already provide some indication of known pathogenic clones (for instance EHEC O157:H7). Additional methods like lysotyping and the detection of flagella (H-)antigen genes (fliC) are available for the fine typing of E. coli.
Immunological and molecular-biological diagnosis
Immunological methods (ELISA, immunoblot) as well as cell culture based methods (verocell test) are used to detect Shiga toxins (Stx) and to isolate Stx-producing E. coli (STEC and EHEC) in test material.
Western blot is used to detect the expression of toxins and adherence factors and for the fine typing of surface antigens of the bacteria.
Polymerase chain reaction (PCR), DNA hybridisation and DNA sequencing are used for the detection of virulence genes and for the characterisation of clone-specific traits (housekeeping genes, flagellin genes).
Pulse field gel electrophoresis (PFGE) is used to examine the epidemiological relationship of isolates in chains of infection.
Detection of mobile DNA (plasmids, bacteriophages) as carriers of virulence genes and their possible transmission by means of horizontal gene transfer.